AOC Conditions & Treatments
Rheumatology is a subspecialty of internal medicine that specializes in disorders of the joints and connective tissues. We use a combination of thorough patient history with comprehensive physical examinations — as well as selected diagnostic testing, such as blood work, X-rays, MRI, and more — to arrive at a diagnosis.
Creating Treatment Plans for Your Condition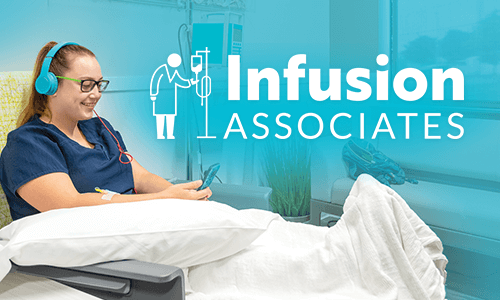 Offering Infusion Therapy In-House
Our sister company, Infusion Associates, provides safe and effective infusion therapy to help relieve and treat your rheumatology condition. It's the same infusion center you've come to know and love from your experiences with AOC, but with a different name. Their warm environment offers all the amenities you've grown to enjoy — including free WiFi, recliner chairs, warm beverages, and more. And, Infusion Associates is conveniently located in-house, so you can visit us for all of your rheumatic needs. Visit their website to learn more.